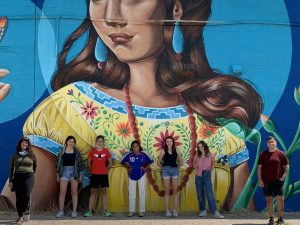 Nanibah Chacon site visit at Resilience, mural at Washington Middle School during collaborative studio.
MARCH – SEPTEMBER 2020
Sanitary Tortilla Factory will be hosting an artist-led project in creating a large public art piece to be included in the International Albuquerque Sunport's public art collection.  The collaborative artist team will re-envision the graphic content of each letter of ALBUQUERQUE. Using the rich history of Albuquerque (1300-present) artists will create sophisticated graphic symbols of the region's complex histories.  Popular cultural icons will share space with the buried histories that uniquely honor the history and cultural diversity of what we call Albuquerque.
WORKSHOPS + ARTIST MENTORSHIPS = COLLABORATIVE STUDIO:
Finding the truth? Reimagining our histories and future 
Youth artists from the community will join the artists in an intensive studio focused series of workshops and events. Visiting artists, NANI CHACON (ABQ ), ANDREA DELEON(ABQ), Grace Rosario Perkins(ABQ) will share their practice and work with students in developing finished work for the public art component at the Albuquerque Sunport. The group will use working studio discussions, field trips to museums, visits to critical sites as a backdrop to create the core images that represent the complex history of this region
STUDENT ARTISTS
Grace Archibeck, Sekai Berry, Anila Marks-Lopez, Melinda Modisette
ASSISTANT
Magdalena Ramos-Mullane