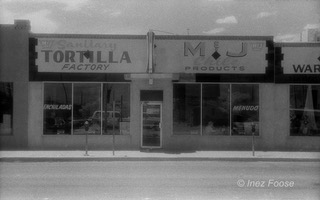 Platforms for Community + Artists
(excerpt from the restaurant guide in 1995) A likeness of the Virgin Mary guards the front door just inside the M & J Sanitary Restaurant, a 26-year-old Mexican cafe and tortilla factory in southwest Albuquerque. Catholic icons decorate the walls: crosses, retablos and drawing of Mary. Also displayed is a gaggle of letters from gratified customers as well as a New Yorker article. Owners Jake and Beatrice Montoya and their efficient staff make dining a friendly and tasty affair. Famous patrons include Bill Clinton, Barbara Streisand, Erik Estrada and Crocodile Dundee (additionally Yo La Tengo LOVED this place, wrote about it often and lamented its closing). There are no leftovers at M & J's promises Beatrice and all but the chips and sopapillas are boiled. Chunky posole, stuffed sopapillas — a must, blue corn tacos, chile rellenos, tamales and packed burritos are the signature dishes. The moist flour and corn-laden tortillas are made fresh daily in the factory–a separate room behind the kitchen. Many customers purchase packaged fresh tortillas to go.
For more than 30 years, the original M & J's Sanitary Tortilla Factory fed and supported artists while filling their plates and hearts. The restaurant closed April 28, 2004. Los Chileros, a chile product company took over the space for multiple years until it sat vacant for many years.
Creating community has always been central to founders practice. They had always thought art alone wasn't enough. In the early 2000's most exhibition opportunities in Albuquerque belonged to the cool, white, academic boy's club. There was a dire need to create a space for queer, POC artists in the region and welcome a larger audience. Sheri believes that the super power and magic of art resides in its ability to bring people together – ALL kinds of people. It became apparent to sheri coming out of grad school, that artists didn't have a lot of what they needed to succeed. Artists needed equipment, community, and space to test new ideas. They needed models of creating the artistic life we studied in school. With that in mind, sheri founded their first artist-centered space, SCA Contemporary. For the next six years, they struggled to breathe life into a rented warehouse space. Treading water in rising rents, while an absentee landlord pocketed any sustainable future–they were done. Five calls later, realtor after realtor refused to show them properties without proof of a million dollars in liquid assets. The last call was fielded by the owner of a vacant, iconic restaurant, The Sanitary Tortilla Factory (STF). During the build out of the space, countless hours of labor were punctuated by moments of magic bubbling up from the past into the present. They learned it wasn't only home to the first mechanized tortilla machine, it was where community and artists came together. Walk-in refrigerators and piles of debris held it's artistic past. A gorgeous water color by a UNM Fine Arts Prof — a painting of the legendary, Chicana, feminist artist, Tina Fuentes. Tina ate green chile enchiladas (really we should find out what her fave was!) while hanging her work in the restaurant and meeting up with other artists in the late 1970's. It was a destination while on tour for indie band Yo La Tengo. The magic and history of STF breathed life into the dream of the space sheri longed to create. Now nearing its tenth anniversary, STF has hosted close to a hundred exhibitions, created a home for a fabrication space, fifteen below-market-value studios, two that are free of charge to underrepresented artists and an occasional social practice residency. In addition to being home to artists, STF is the site of multiple collaborations anchored in the community. All of this work has been supported solely through sweat equity and an occasional small artist grant.
Past info on STF:
Restaurant closing: https://www.abqjournal.com/news/metro/184296metro06-10-04.htm
Founder: sheri crider
In the summer of 2019 we hosted an exhibition of the original artists that fell in love with the restaurant: Love, Art & Tortillas . The exhibition was prompted by local legend Frank McCulloch stopping in after the funeral of one of the original owners, Jake Montoya. The exhibition featured artists who frequently ate and showed work in the restaurant.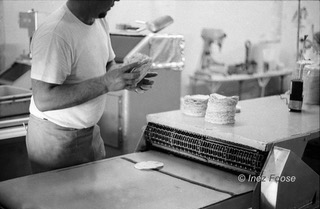 photos courtesy Inez Foose

Sanitary Tortilla Factory
401 – 403 2nd St SW
Albuquerque, NM 87102
Contact
sheri crider
(505) 228-3749
stfsubmissions@gmail.com
Gallery Hours
Thursdays and Fridays, 12-5pm
+ by appointment and open during scheduled events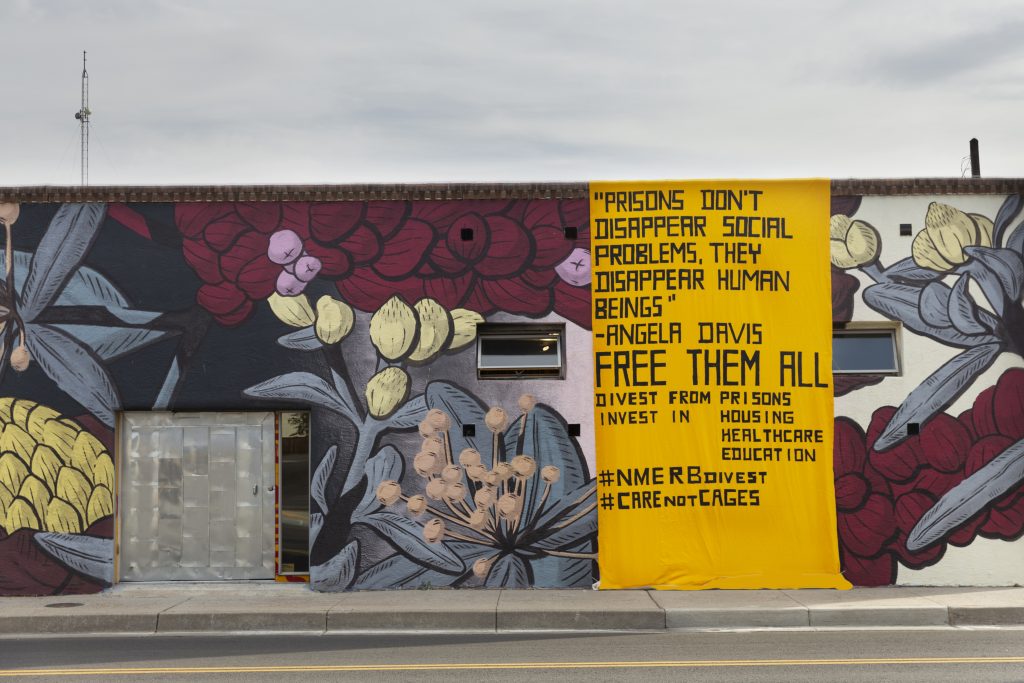 Social
[wen_social_links]