Platforms for Community + Artists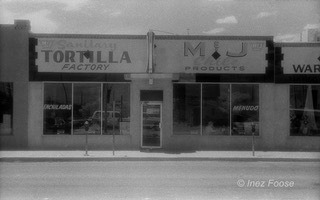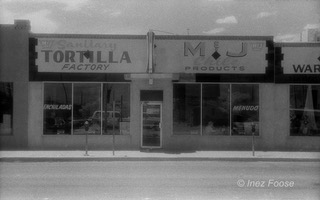 (excerpt from the restaurant guide in 1995)
A likeness of the Virgin Mary guards the front door just inside the M & J Sanitary Restaurant, a 26-year-old Mexican cafe and tortilla factory in southwest Albuquerque. Catholic icons decorate the walls: crosses, retablos and drawing of Mary. Also displayed is a gaggle of letters from gratified customers as well as a New Yorker article. Owners Jake and Beatrice Montoya and their efficient staff make dining a friendly and tasty affair. Famous patrons include Bill Clinton, Barbara Streisand, Erik Estrada and Crocodile Dundee (additionally Yo La Tengo LOVED this place, wrote about it often and lamented its closing). There are no leftovers at M & J's promises Beatrice and all but the chips and sopaipillas are boiled. Chunky posole, stuffed sopaipillas — a must, blue corn tacos, chile rellenos, tamales and packed burritos are the signature dishes. The moist flour and corn-laden tortillas are made fresh daily in the factory–a separate room behind the kitchen. Many customers purchase packaged fresh tortillas to go.
For more than 30 years, the original M & J's Sanitary Tortilla Factory fed and supported artists while filling their plates and hearts. The restaurant closed April 28, 2004. Los Chileros, a chile product company took over the space for the next decade. In 2014, the building became vacant.
In 2015, sheri crider created the next chapter of the Sanitary Tortilla Factory – A platform for artists and community. The renown vacated restaurant is now home to fifteen below-market-value studios, a twelve hundred square foot exhibition space, fabrication and a funded artist residency. Created out of a desire to expand the audience for contemporary art while creating opportunities for local artists, the facility has become a professional setting where community and artists alike benefit from the visual and performing arts.
Originally intended to support regional artists by providing exhibition space at no charge, this naive impetus has grown to a complicated understanding of cultural systems. The owner and founder actively seeks to expand the critical capacity of art making by employing strategic curatorial practices and programming to undermine structural inequities in the art world. The last five years alone, exhibitions and programming showcased the work of near exclusively queer and underrepresented communities. Collaborations range from regional institutions such as 516 ARTS and UNM College of Art to national and grassroots organizations. The ACLU, BOLD FUTURES (formerly Young Women United), Crossroads for Women, USDAC, and Imagining America are but a few of the notable relationships centered in communities across the country. The Sanitary Tortilla Factory has been solely supported through sweat equity and an occasional artist grant.

Past info on STF:
Restaurant closing: https://www.abqjournal.com/news/metro/184296metro06-10-04.htm
Founder: sheri crider
Original artists of the restaurant: Love, Art & Tortillas an exhibition featuring artists who frequently ate and showed work in the restaurant.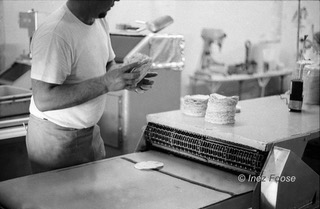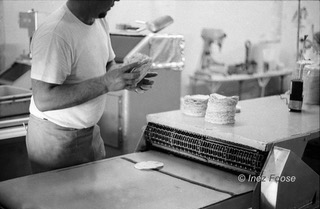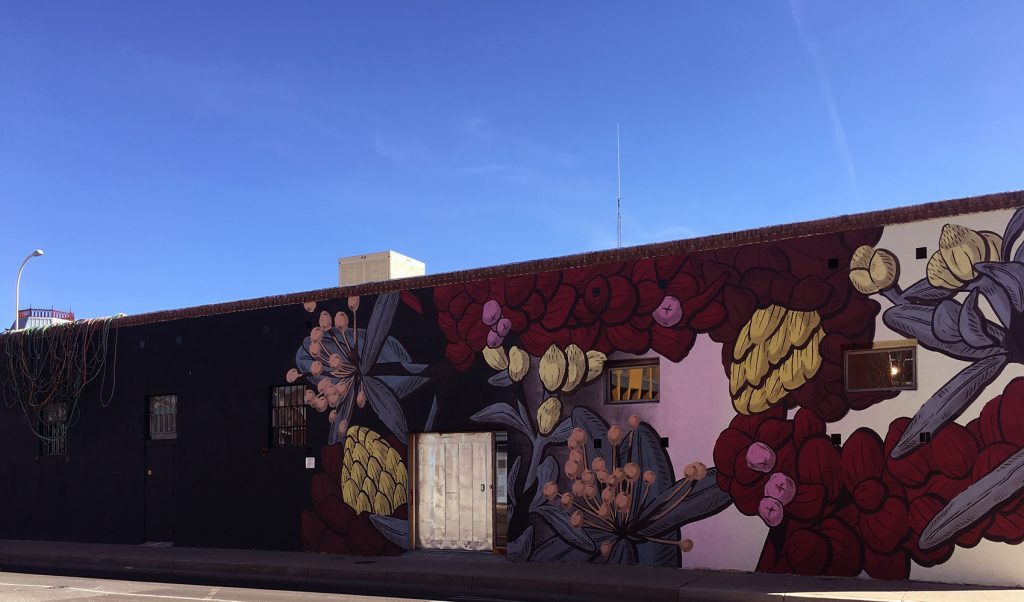 BW photos courtesy Inez Foose
Botanical mural by Pastel 2017
Sanitary Tortilla Factory
401 – 403 2nd St SW
Albuquerque, NM 87102
Contact
sheri crider
(505) 228-3749
stfsubmissions@gmail.com
Gallery Hours
Thursdays and Fridays, 12-5pm
+ by appointment or events
Social
[wen_social_links]