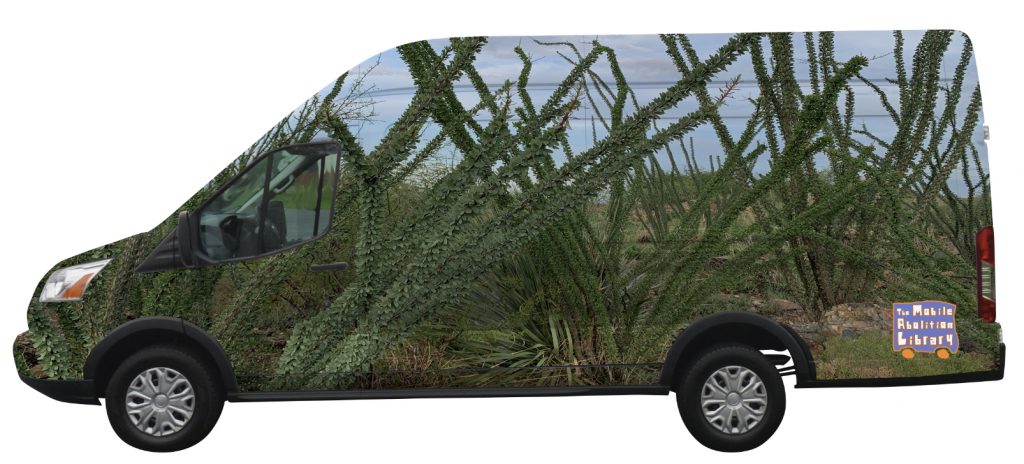 Mobile Abolition Library Book Drive
Friday, December 8th, from 5-8pm,
Sanitary Tortilla Factory
401 2nd St SW Albuquerque, NM 87102
In an ode to generosity and the pursuit of abolition, the Mobile Abolition Library announces a Book Drive, will be held at Sanitary Tortilla Factory on Friday, December 8, from 5-8pm. This initiative aspires to provide multiple copies of books to readers and communities. Bring a book thats on our list or purchase one at the Book Drive to contribute to our library. On view will be the two-person exhibition, Divine Immanence, embarks on a profound exploration of identity, and spirituality through photographic works by Apolo Gomez and Delilah Montoya. This exhibition challenges preconceived notions of heaven, female archetypes, and the queer experience through photography. Sanitary Tortilla Factory is pleased to announce the exhibition has been extended and will be on view through the end of December.
The Mobile Abolition Library is a groundbreaking initiative challenging one-sided narratives surrounding crimes and punishment. This portable library boasts a collection of three hundred books, abolition-centric zines, an abolition seed library, and a digital portrait archive housing incarcerated narratives. Its mission is to transform public spaces into vibrant platforms that amplify marginalized voices while fostering nuanced discussions to envision a more just future.
Bookworks, an esteemed local independent bookstore in Albuquerque, graciously joins hands as our partner for this commendable endeavor. Authors, book enthusiasts, and Abolitionists globally are encouraged to engage by purchasing books for the traveling library.
This ambitious project is the brainchild of the collaborative efforts of sheri crider, Bernadine Hernández, Apolo Gomez, and Martín Wannam, all members of the FRONTERISTXS Collective in Albuquerque, New Mexico. Housed within a specially designed and crafted Ford E Transit, the Mobile Abolition Library is a living archive, encapsulating stories and experiences from impacted communities, migrants, formerly incarcerated individuals, and their families. The youth artist Anjelica Abeita (Zia Pueblo) spearheads the digital portrait archive.
The Mobile Abolition Library strives to challenge societal norms and narratives through education, representation, and community engagement. Join us in reshaping the narrative towards a more equitable and inclusive society.
Key supporters: Art for Justice Fund, Bookworks and ACLU New Mexico.