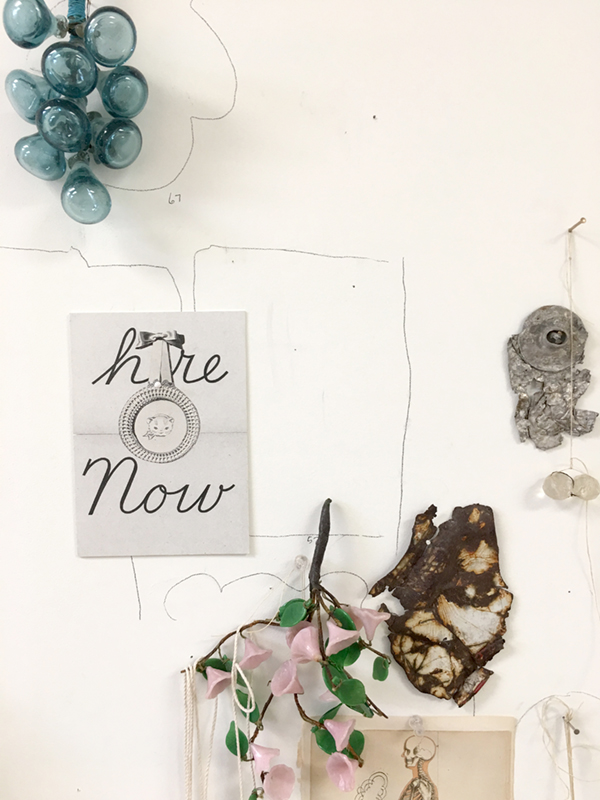 February 1 – March 8, 2019
Reception: February 1, 2019 5-8pm 
For the past year, Valerie Roybal had dedicated her studio practice to creating an installation focused on her love of things. Valerie fondly attended to a host of objects that were discarded
and obsolete. Roybal's intimate and delicate reconstructions of fishing weights, postcards, sheet music, and oddities reconstruct a sophisticated elusive narrative that speaks to poetic passing of time. What had been overlooked and abandoned now becomes intricate parts of an obscure narrative. The constellation of objects carries a deep affection for the passing moments of our collective triumphs and fragility of our lives.
This exhibition was planned over a year ago. With Valerie Roybal's passing this past week, the exhibition becomes part retrospective, part memorial, and tribute. The exhibition will be mounted by artists sheri crider and Heidi Pollard.
January 11-18th
Opening Reception: Saturday, January 12 4-6pm.
376 chirps in…a largely collector sourced show of birds from experiment to refinement to play to today. These birds represent this world, us and the beauty and tension/excitement of living.
"In a world of fast-paced information, the growing list of schools where such tragedies have occurred surfaces in the news cycle and then disappears again. It is troubling how the particular horror of each fades from our collective and individual memories. The long view is perhaps what we need. In 207, we are offered the particular stories, as well as—in a glance, even—a suggestion of the cumulative impact of gun violence. In these buildings, 207 people, mostly children, were shot and killed or injured. In the aftermath, even more than a decade later, Photos poured hundreds of hours into memorializing each place. If only we all dedicated such care and attention to contemplating the complexities that created crime scenes out of schoolyards. Quilting is a craft that requires an intense amount of time and labor; the commitment to each of these portraits evidences Photos' sincerity and earnestness—but there's something else in the medium that works uncannily well with its subject. Look closely and you can see the individual strokes that hold the whole scene together, with something as delicate as a cut of ivory thread. Something in the medium, too, suggests the idea of unraveling."
Read the full review below