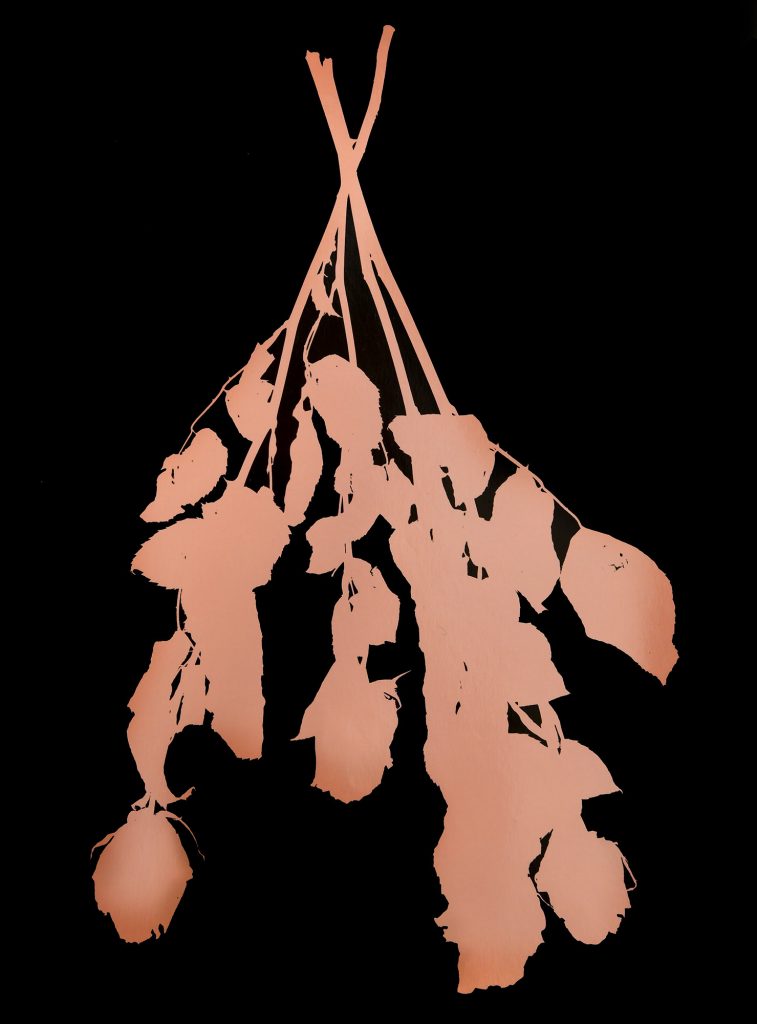 Brianna Tadeo, Rose, 2022, chromogenic print, 11" x 20"
Connective Tissue: Environment, Ecology, Body
2023 UNM Graduate Arts Association Juried Show
May 5-26, 2023
Opening Reception: Friday, May 5 from 5-8 pm

Artists: Alyssa Eble, Ele Edreva, Taylor Engel, Chloe Hanken, claudia hermano, Jess Lantham, Carla Lopez, Ellan Luna, Sofia Mendez Subieta, Emma Ressel, Anna Rotty, Christopher Schuldt, Adelaide Theriault, Brianna Tadeo, Nancy Dewhurst, Andrew Swenson, Billy Von Raven, Nicholas Valdes

Sanitary Tortilla Factory is pleased to present the 2023 UNM Graduate Arts Association Juried Show: Connective Tissue: Environment, Ecology, Body featuring a selection of work by artists currently in the Art Studio MFA Program at the University of New Mexico. The exhibition was juried by Christian Waguespack, the Head of Curatorial Affairs and Curator of 20th Century Art at the New Mexico Museum of Art, Santa Fe, NM. A day spent visiting grad students in their studios is like an engaging tarot spread. Each individual artist presents as a card embodying its own distinctive archetype, with its own messages, visions, and portents. When they come together as a whole, a path is laid for those who know how to read the signs. One can get a look at what potential futures may be on the horizon for the arts. A cohort of grad students is a cabal of creative individuals, and entry into their circles reveals the ideas and interests that will guide the tides of thought and values on the rise in a given community of artists.
I came into this project with no preconceived notions of what themes, styles, or personal passions should guide the thesis of the exhibition. The challenge was to distill the major cords of interests that connect the distinct visions of the artists involved, and to orchestrate those individual interests into a cohesive whole. The interconnectedness of art, the ecology, and the body, and an expression of values through dialogue with environment quickly showed itself to be a powerful undercurrent in the UNM Art Studio department. Connective Tissues highlights the ideas that connect, support, and bind this network of grad students as a body of creative and artistic thought and practice.
The Graduate Art Association at the University of New Mexico is a student-run group that organizes events to foster connection within the university and with the larger community. The GAA juried show is an annual event that features work from current graduate studio majors. This year GAA has been honored to work with Christian Waguespack as our guest juror to select the individual works, meet with students and create a vision for this show. This year's show was organized by GAA members claudia hermano, Adelaide Theriault, Chloe Hanken, and Christopher Schuldt.
Juror Bio: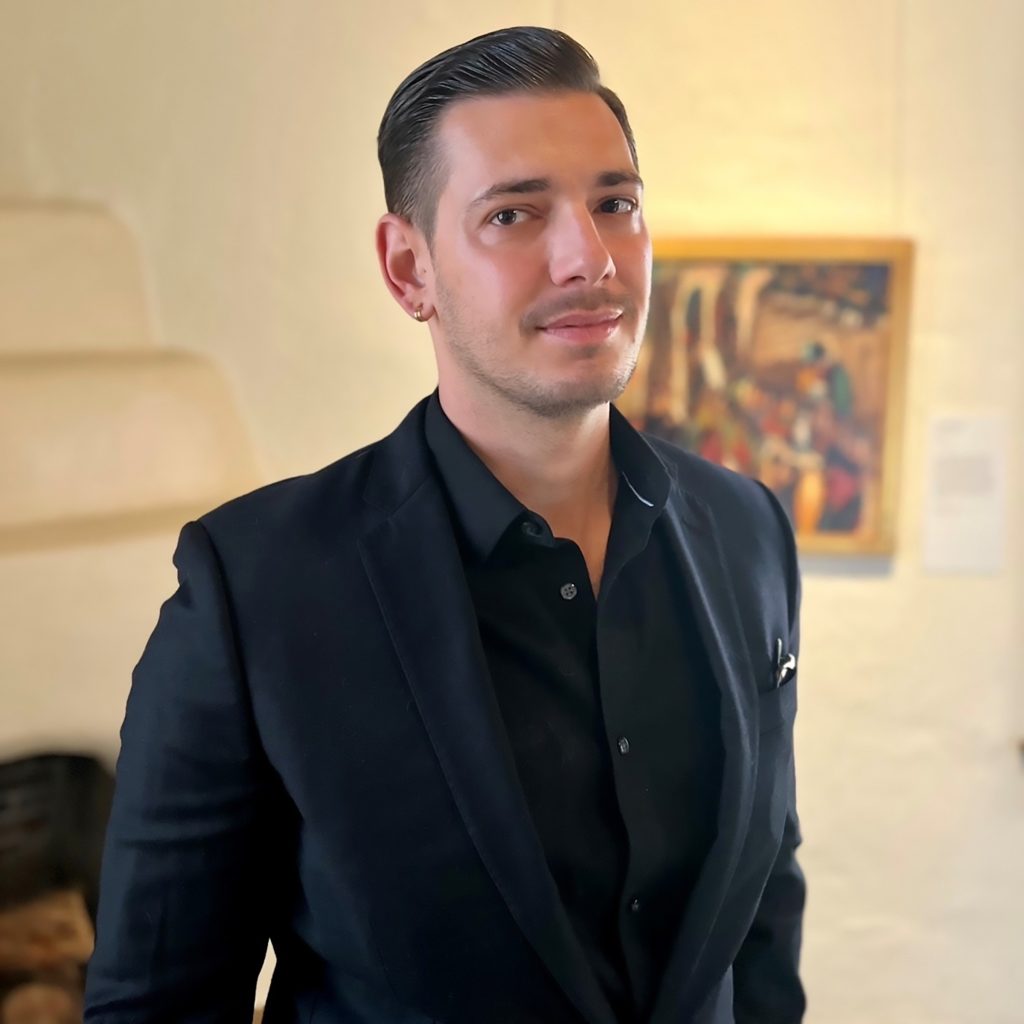 Christian Waguespack is Head of Curatorial Affairs at the New Mexico Museum of Art and has served as Curator of 20th Century Art at there since 2017 where he has organized over a dozen exhibitions and conducts research on the Museum's collection focusing on modern art, and art of the American Southwest. He is also adjunct faculty in the Department of Museum Studies and Arts Leadership + Business graduate and undergraduate programs.
Before coming to the New Mexico Museum of Art he curated exhibitions for the University of New Mexico Art Museum and the National Hispanic Cultural Center in Albuquerque and the Center for Creative Photography, Phoenix Art Museum, and the Tucson Museum of Art in Arizona. He has also worked with a number of private and nonprofit galleries in New Mexico and Arizona, and worked in nonprofit fundraising and development.
Mr. Waguespack holds Master's degrees in Museum Studies and in Art History with a graduate minor in Arts Leadership + Business and a Master's degree in Museum Studies from the University of New Mexico.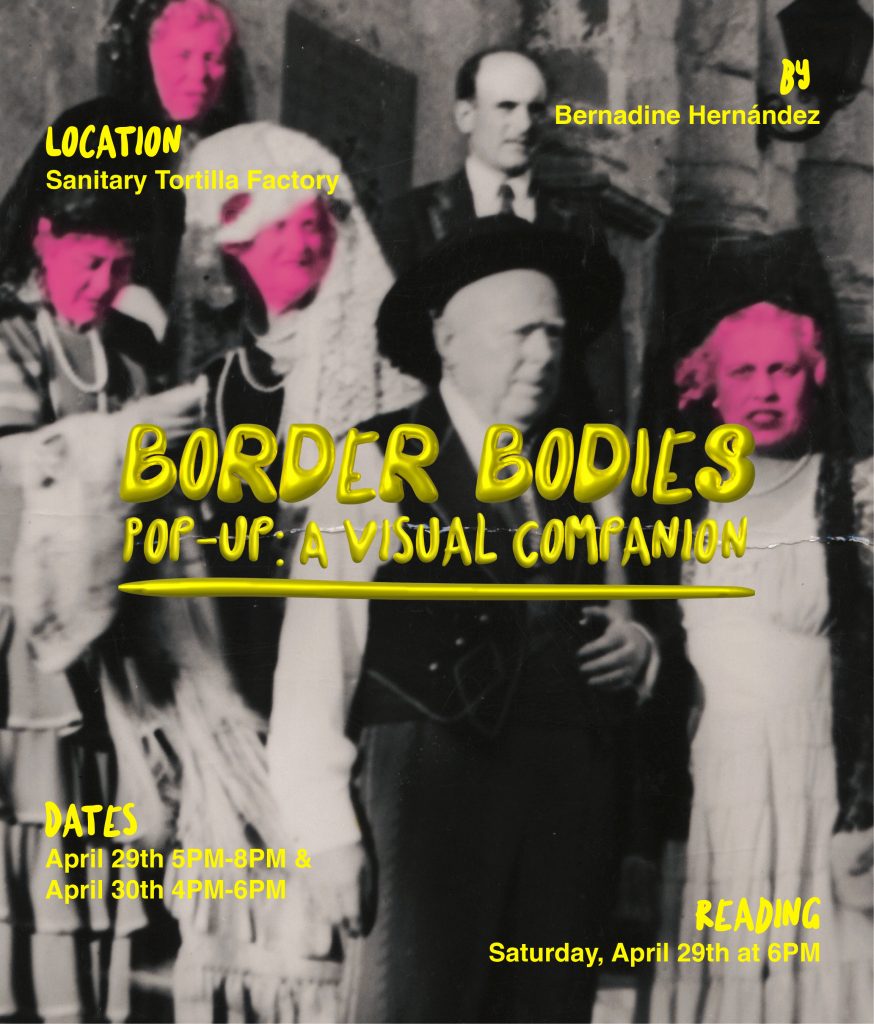 Border Bodies: A Visual Pop-UP
Dr. Bernadine Hernández
April 29-30, 2023
Reading: April 29, 6pm
Reception: April 29, 5-8pm
Sanitary Tortilla Factory is pleased to present Border Bodies: A Visual Pop-Up. The exhibition is a visual companion to the 2022 book Border Bodies: Sexual Capital, Racialized Sexuality, and Violence in the Nineteenth-Century Borderlands by Dr. Bernadine Hernández. This visual companion mixes narrative, storytelling, words, multi-media video, photography, maps, drawing, and installation and expands on the questions that Border Bodies asks about how brown bodies are used for capital gain in the development of the contemporary U.S. nation state. The installation asks: how does the borderlands pay for adhering to the increasingly demanding logic of capitalism? How do brown women embody the histories of colonialism, enslavement, migration, and displacement/ dispossession? Most importantly, it asks, how can we create trans-feminist connections to keep brown feminine bodies safe? In thinking about these questions in the book, Border Bodies: A Visual Pop-Up attempts to create a narrative around the brown feminine body, capital, sex, violence, and labor that de-centers the pathology of sexual excess that centers on the brown feminine body. 

Border Bodies: Sexual Capital, Racialized Sexuality, and Violence in the Nineteenth-Century Borderlands book blurb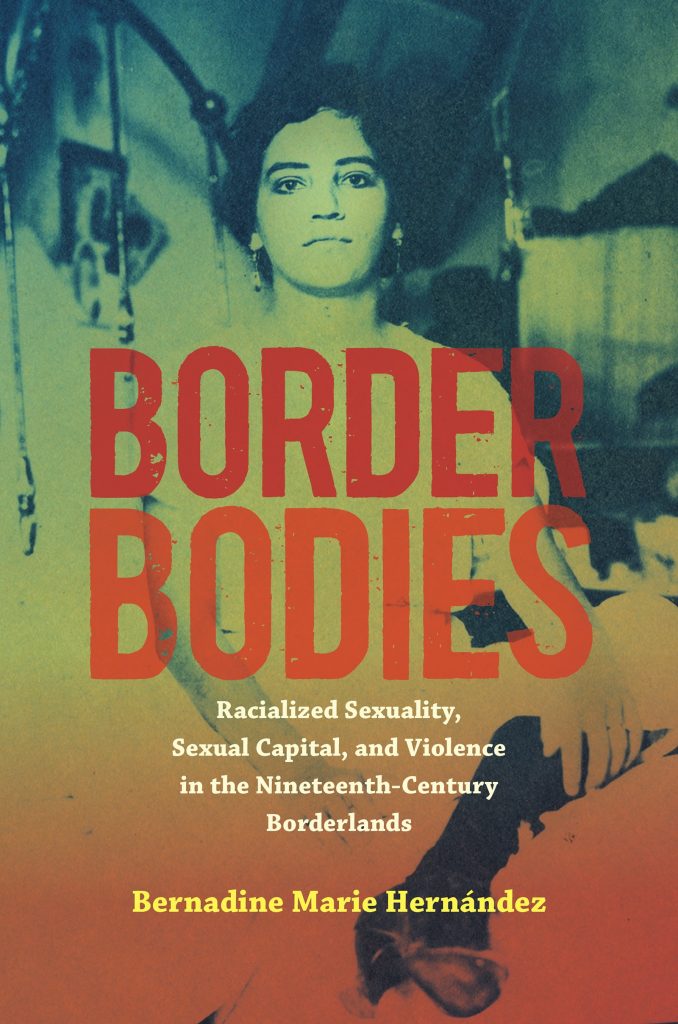 In this study of sex, gender, sexual violence, and power along the border, Bernadine Marie Hernández brings to light under-heard stories of women who lived in a critical era of American history. Elaborating on the concept of sexual capital, she uses little-known newspapers and periodicals, letters, testimonios, court cases, short stories, and photographs to reveal how sex, violence, and capital conspired to govern not only women's bodies but their role in the changing American Southwest. Hernández focuses on a time when the borderlands saw a rapid influx of white settlers who encountered elite landholding Californios, Hispanos, and Tejanos. Sex was inseparable from power in the borderlands, and women were integral to the stabilization of that power.
In drawing these stories from the archive, Hernández illuminates contemporary ideas of sexuality through the lens of the borderland's history of expansionist, violent, and gendered conquest. By extension, Hernández argues that Mexicana, Nuevomexicana, Californiana, and Tejana women were key actors in the formation of the western United States, even as they are too often erased from the region's story.
Bio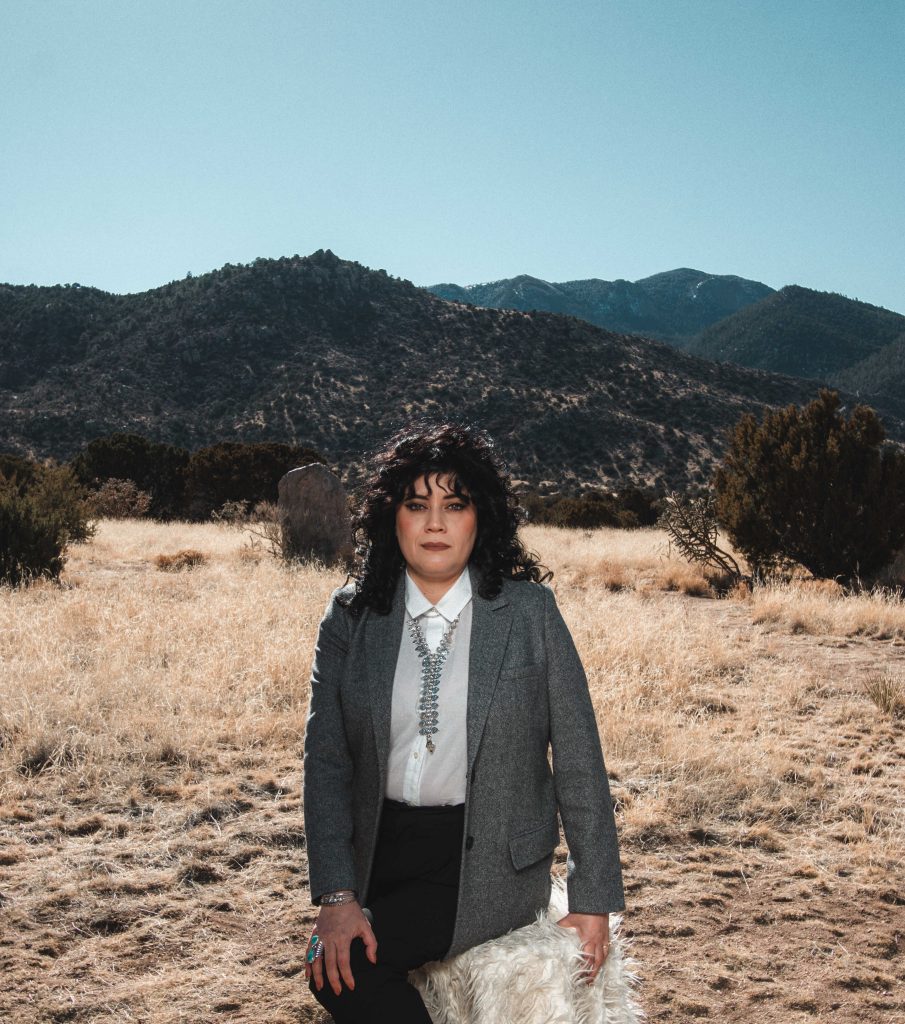 Dr. Bernadine Hernández is an associate professor in the Department of English at the University of New Mexico. She specializes in transnational feminism and sexual economies of the US-Mexico borderlands, along with American Literary Studies and Empire, border and migration history, and Chicana/Latina Literature and Sexualities. Her book with UNC press is titled Border Bodies: Racialized Sexuality, Sexual Capital, and Violence in the Nineteenth Century Borderlands and is the first book length study that focuses on sexual capital and gender and sexual violence in the borderlands in the nineteenth and early twentieth-centuries through recovered archival work. She is also the co-editor of the first edited collection on Ana Castillo titled New Transnational Chicanx Perspectives on Ana Castillo, published with University of Pittsburg Press in Spring 2021. Her other publications appear in Comparative Literature and Culture, Transgender Studies Quarterly, Women's Studies Quarterly, among others.
She is also a public facing scholar and works with the artist and writer collective fronteristxs, a collective of artists and writers in New Mexico working to end migrant detention and abolish the prison industrial complex through creative activism. Fronteristxs provides free political education for community and youth throughout New Mexico on transformative justice and abolition. She sits on the City of Albuquerque Public Arts Board and the Working Classroom Board.