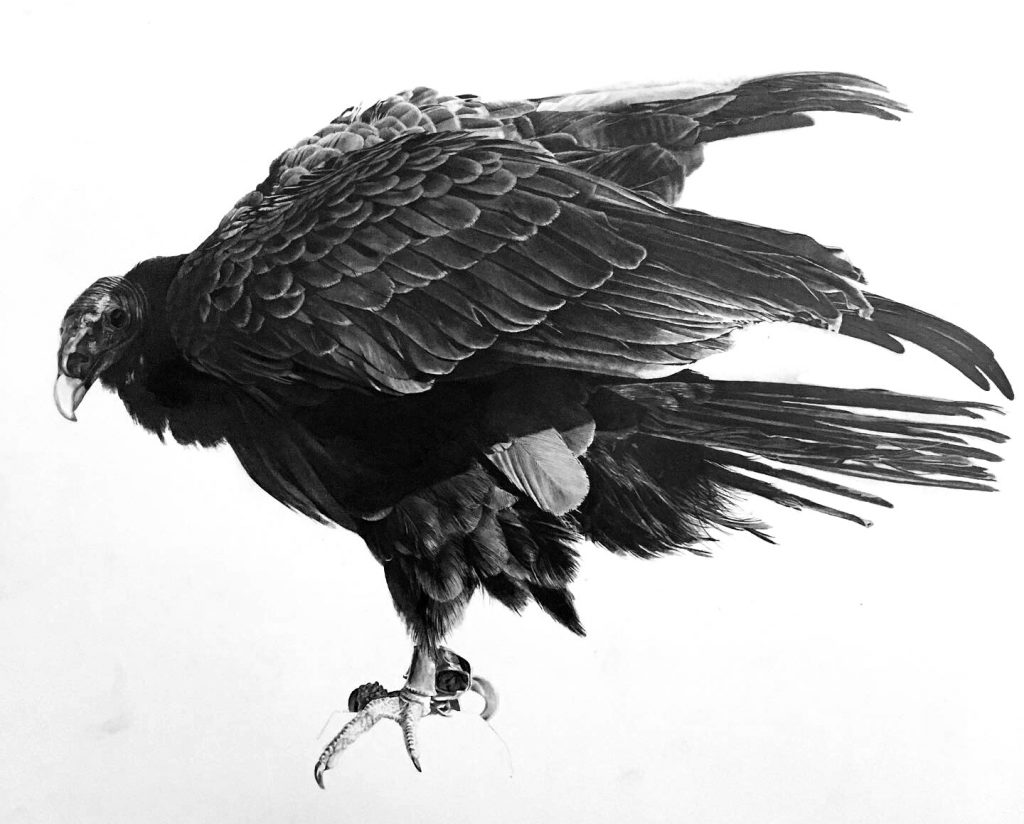 Cedra Wood
January 24 – February 28, 2020
Opening Reception: February 7, 6-8 pm
In A Soft Eye, A Mirror-Eye, Cedra Wood presents to-scale drawings of two species: the camel and the turkey vulture. Drawn to both of these groups because of their hardihood, resilience, and elegance, Wood creates intimate portraits, attempting to depict each animal in a way that defies both description and stereotype.
In one of the two series, Wood showcases the individuality of nine camels she worked with on a ranch in Texas, affectionately presenting the animals' disparate personalities and physiognomies. The work stands as a testament to the distinctive character of each of these "ships of the desert." The second body of drawings comprises five portraits of a single turkey vulture, a resident of the New Mexico Wildlife Center. Humans often react to vultures either with revulsion, fear, or superstition, which Wood hopes to counterpoint by presenting Sol's physical features precisely and reverently, letting his remarkable qualities speak for themselves.
Banner Image: Portrait of SOL 1, 20″x26″, graphite on paper, 2019
The Sanitary Tortilla will be hosting an artist in residence for a six-week project during the summer of 2020.
The artist will be provided housing, studio space, access to the fabrication shop, travel funds ($500), and a stipend ($1800) for the residency. The studio space is STF's 1100sf exhibition space. STF's fabrication workspace contains a basic woodworking shop (table saw, band saw, miter saw, sanders), hand-held power tools, and a light metal shop including a TIG welder, chop saw, and grinders (this is a studio-wide used space). FUSE a maker space is less than a half-mile. FUSE has most any tool needed- screen printing, large format printers, full metal/wood shops, 3D printers (basic knowledge is assessed via a nominal fee class).
Apply: http://sanitarytortillafactory.org/submissions/
Curatorial Team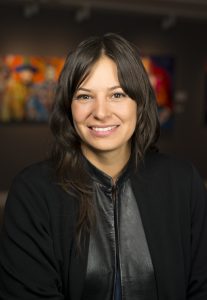 Candice Hopkins is a writer, a curator and a citizen of Carcross/Tagish First Nation. Her practice explores the intersections of history, contemporary art and indigeneity. Hopkins is senior curator for the 2019 and 2021 editions of the Toronto Biennial of Art and was a part of the curatorial team of the Canadian Pavilion of the 58th Venice Biennale in 2019, featuring the work of the media art collective Isuma. She is co-curator of notable exhibitions including Art For a New Understanding: Native Voices, 1950s to Now; the 2018 SITE Santa Fe biennial, Casa Tomada; documenta 14 in Athens, Greece and Kassel, Germany; Sakahàn: International Indigenous Art; Close Encounters: The Next 500 Years; and the 2014 SITElines biennial, Unsettled Landscapes. Her writing is published widely and recent essays and presentations include "The Gilded Gaze: Wealth and Economies on the Colonial Frontier," for the documenta 14 Reader, "Outlawed Social Life" for South as a State of Mind and Sounding the Margins: A Choir of Minor Voices at Small Projects, Tromsø, Norway. She has lectured internationally including at the Witte de With, Tate Modern, Dak'Art Biennale, Artists Space, Tate Britain, Yale University, Cornell University, and the University of British Columbia.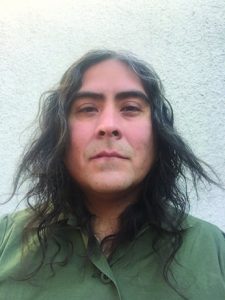 Raven Chacon is a composer, performer and installation artist from Fort Defiance, Navajo Nation. As a solo artist, collaborator, or with Postcommodity, Chacon has exhibited or performed at Whitney Biennial, documenta 14, REDCAT, Musée d'art Contemporain de Montréal, San Francisco Electronic Music Festival, Chaco Canyon, Ende Tymes Festival, 18th Biennale of Sydney, and The Kennedy Center. Every year, he teaches 20 students to write string quartets for the Native American Composer Apprenticeship Project (NACAP). He is the recipient of the United States Artists fellowship in Music, The Creative Capital award in Visual Arts, The Native Arts and Cultures Foundation artist fellowship, and the American Academy's Berlin Prize for Music Composition. He lives in Albuquerque, NM