Sandia Hot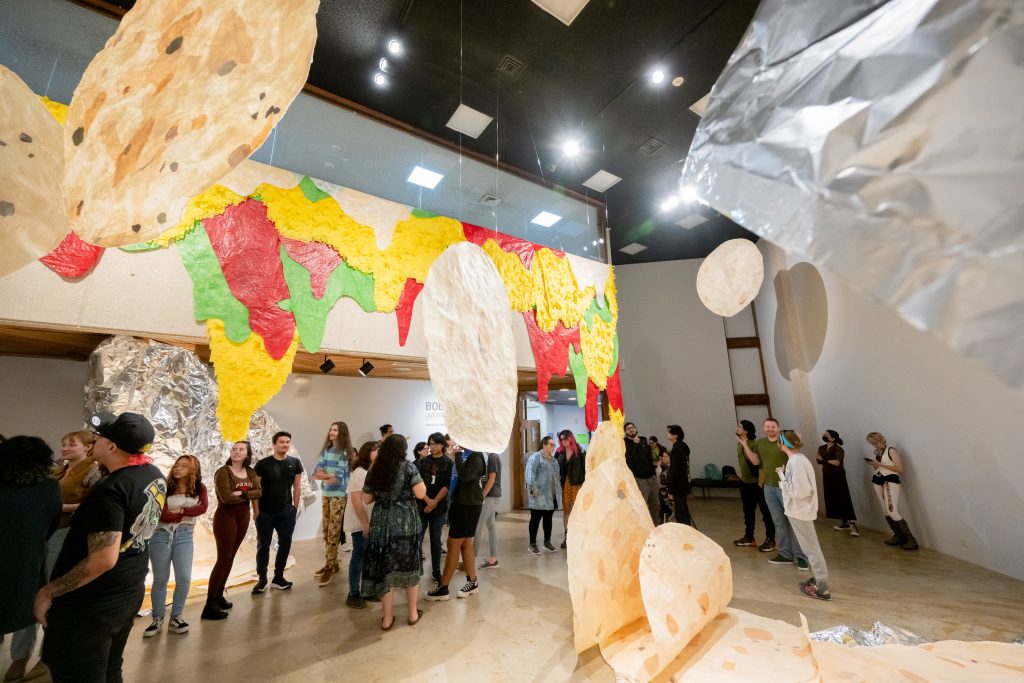 Sandia Hot
Justin Favela in collaboration with Working Classroom
August 4 – 25, 2023
Opening Reception: Friday, August 4 from 5-8 pm

Sanitary Tortilla Factory is proud to present Sandia Hot, an immersive installation celebrating the historic Albuquerque Barelas Neighborhood and New Mexican history, born from the creative collaboration between Working Classroom and artist, Justin Favela.
For the past decade, Favela's artistic journey has revolved around delving into the rich tapestry of Latinx culture and its profound influence on our contemporary society, especially through cherished culinary heritage. At the heart of Favela's artistic exploration lies the profound connection between authenticity, place, and identity, beautifully expressed through the time-honored tradition of cartoneria.
While leading an exceptional two-week workshop at Working Classroom, Favela's vision is to empower students to embark on a journey of research, discovering the local delicacies, restaurants, and the treasured family recipes that carry profound narratives. This exceptional workshop is dedicated to the vibrant Barelas neighborhood and the abundant history of New Mexico.
Throughout the engaging two weeks, Favela will impart the art of cartoneria to the students, guiding them in mastering techniques such as crafting cardboard structures, employing paper mache, and creating stunning piñatas alongside other mesmerizing paper artistry. Together, they will breathe life into colossal representations of significant New Mexican dishes, making them awe-inspiring focal points of an immersive installation that will be on view at Sanitary Tortilla Factory.
Join us Friday, August 4 from 5-8 pm for the opening reception of Sandia Hot, a celebration of community, culture, and artistic expression, as we come together to honor the spirit of Barelas neighborhood and the enduring essence of New Mexican history through the magical medium of cartoneria.
Artist Bio:
Justin Favela is based in Las Vegas, Nevada, and is known for large-scale installations and sculptures that manifest his interactions with American pop culture and the Latinx experience. Favela has exhibited his work both internationally and across the United States. His installations have been commissioned by museums including the Denver Art Museum in Colorado and Crystal Bridges Museum of American Art in Arkansas. He is the recipient of the 2018 Alan Turing LGTBIQ Award for International Artist. Favela hosts two culture-oriented podcasts, Latinos Who Lunch and The Art People Podcast. He holds a BFA in fine art from the University of Nevada, Las Vegas.