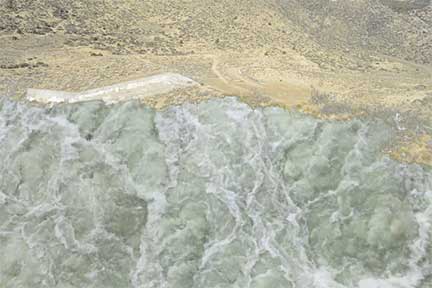 March 3-31, 2017
Opening, First Friday, March 3, 6-9pm
Artist Talk, Thursday, March 23, 6-7pm
The Sanitary Tortilla Factory is pleased to present "Deep Waters, Thin Places", new work by Erin Fussell.
In this immersive installation of video, performance, sound, lithography, and sculpture, Erin Fussell transforms an urban desert flood control dam into a creative site. Fussell looks at the space conceptually as a reflection of a possible internal state of being. Culturally, we build "flood control systems" within ourselves as well to live in the world. With her work, the artist poses an important question, when should we control it and when should we let it flood? In one video, performers interpret visual scores inspired by engineering plans of Embudo Dam on the dam in the Sandia Foothills. Water rushes uncontrolled in another. Wooden sculptures that mimic elements of the concrete dam structure recall the materiality of the site versus the gallery, point to the relationship between the natural and built environment. The work allows the viewer to reinterpret everyday landscape and experience space, both internally and externally.
Exhibition review in THE Magazine Santa Fe.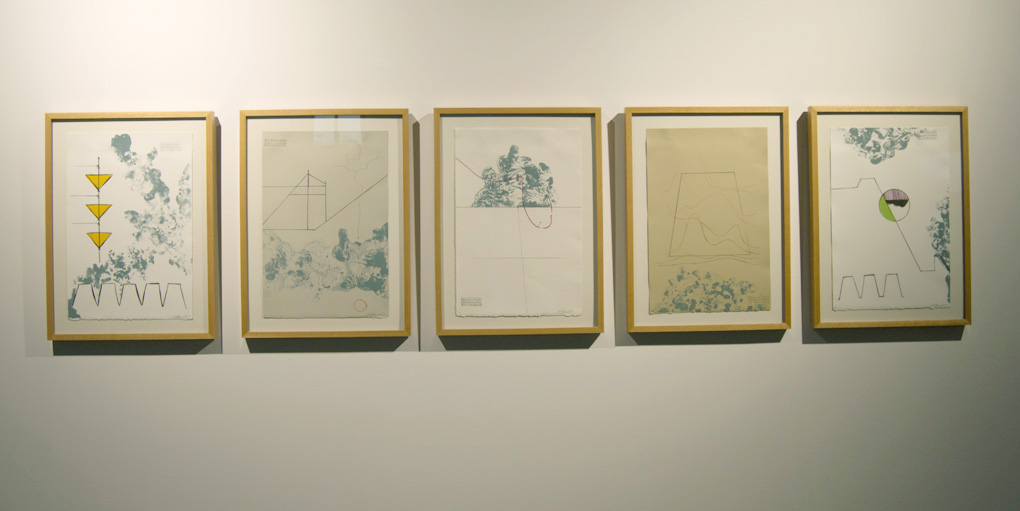 About the artist:
Erin Fussell is an interdisciplinary artist working in New Mexico. After growing up in watery Portland, Oregon and traveling extensively, Fussell draws inspiration from the desert landscape. She is currently the John Gaw Meem Architecture and Design Fellow at the Center for Southwest Research, an alumni SITE Santa Fe Scholar, and STF's Exceptional Scholar for 2017. "Deep Waters, Thin Places" is her M.F.A. thesis show for the Art and Ecology program at the University of New Mexico.
Supported in part by Albuquerque Public Art and celebrating March's regional Women in Creativity.