sheri crider in collaboration with FRONTERISTXS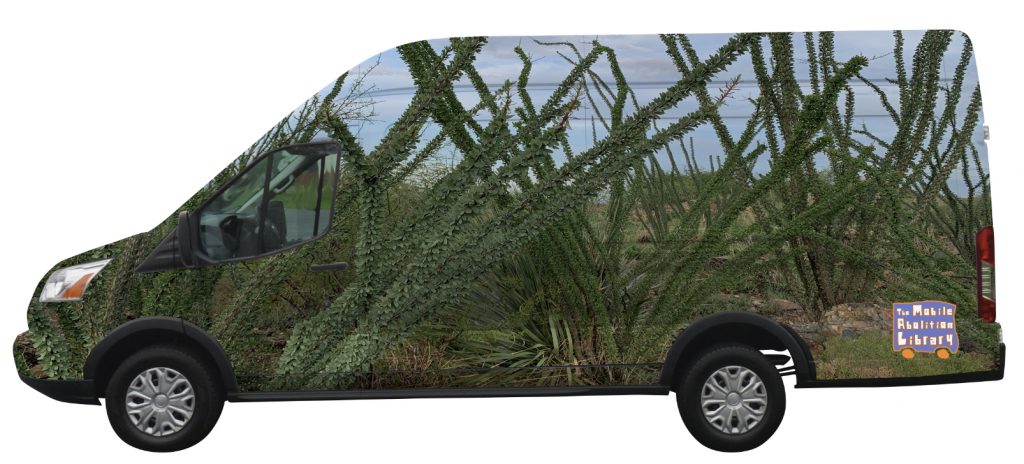 The Mobile Abolition Library will house a collection of 300 books, zines, video portrait archive of incarcerated narratives and an abolition seed library. We are excited to partner with Book Works to community source the physical books for the library. In the spirit of generosity and abolition, we hope to have multiple copies of books to leave with readers and communities. Readers, bibliofiles and book lovers, world wide are encouraged to purchase the books for the traveling library. There are multiple other ways you can be involved. Please scroll to bottom of the page for more details on becoming a library funder or supporter of this project.
The library will be a site to reflect on ways we can re-imagine our current world of surveillance, policing, punishment, and care between communities. The Mobile Abolition Library will be housed in a Ford E-Transit designed and built out by a coalition of system impacted youth and adults coordinated by Art for Justice fellow sheri crider. The van will be an ongoing project in coordination with state wide exhibitions centered on criminal justice reform in 2026 at Site Santa Fe, University of New Mexico Art Museum and New Mexico State University Art Museum. Sanitary Tortilla Factory will additionally host Daniel McCarthy's, Section of Disapproved Books (this exhibition highlights censored books in the prison system) in conjunction with this initiative.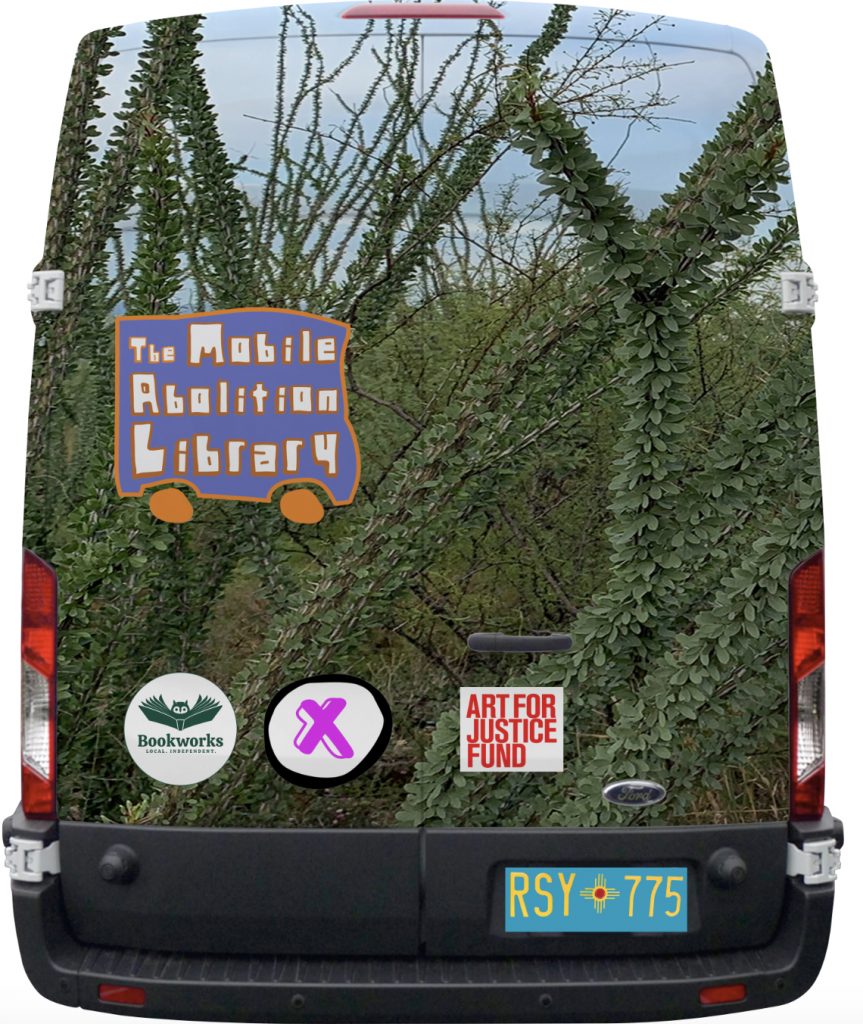 The project is an ongoing collaboration between sheri crider and Bernadine Hernández, Apolo Gomez, Martín Wannam, and the members of FRONTERISTXS Collective. The project has an ambitious mission to visit key sites in New Mexico and the western US in the next three years. Several community and library spaces are confirmed for 2024 – South Valley Library, Columbus Village Library and the Santa Fe Public Library. It is also the projects intention to travel to rural Migrant Detention Sites and Jails and Prisons (Grants, Cibola, Otero, Las Cruces, amongst others) and organize pop ups in the communities most affected by mass incarceration.
New Mexico is significantly impacted by the prison and migrant detention industrial complex, with New Mexico incarcerating its people at a rate 18.7 percent higher than the national rate. New Mexico also relied heavily on private prisons more than any other state: 43 percent of people incarcerated in New Mexico are in private prisons, compared to the nationwide percentage of 8.5 percent. In 2017, 73 percent of all people in immigration detention facilities in New Mexico were confined to privately run facilities. While publicly run prisons are harsh and also problematic, New Mexico's unique position with the private run facilities lack oversight, which makes conditions in these detentions, prisons and jails deplorable with more known health violations, exploitative labor conditions, physical abuse, higher use of solitary confinement, and more limited legal resources.
FUTURE LOCATION OF LIBRARY FUNDER LINK to purchase books for the library AND THE 300 BOOK LIST!!! PLEASE CHECK BACK SHORTLY !!!