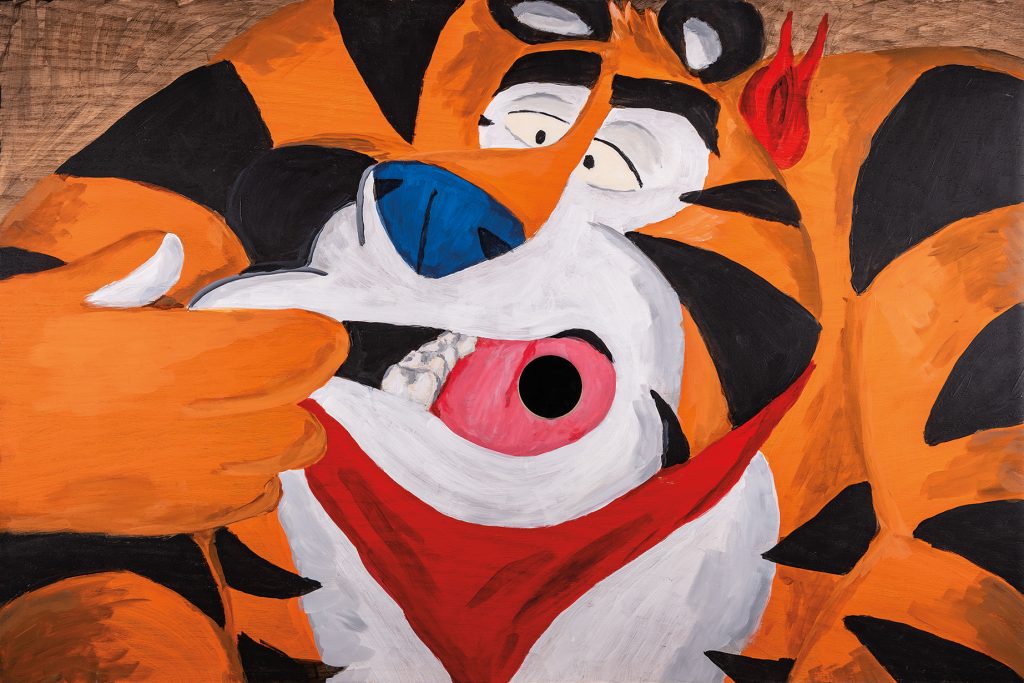 WILD DESIRE
Tommy Bruce and Mark Zubrovich
July 7 – 28, 2023
Opening Reception: Friday, July 7 from 5-8 pm

Sanitary Tortilla Factory is pleased to present WILD DESIRE, an exhibition of new painted works by artists Tommy Bruce and Mark Zubrovich. This show represents a collaboration years in the making. Both are artists concerned with queer identity and its manifestation within imagined bodies. Both artists pull directly from their experiences within the furry subculture, where these imagined bodies spring to life in drawing, costume, and roleplay. This exhibition explores the unique lens that such a perspective lends to concepts of desire, the self, and the fantastical other.
Bruce's work, from the series "The Tiger in Me" responds to a mid 2010's twitter feud between the official Kellogg's cereal brand account @realtonytiger and the Furry twitter community at large. These works imagine a loving/lusting relationship between Tony the Tiger and Bruce's fursona, Atmus, a white-tailed deer. Bruce considers this fantasy as a logical conclusion to the intensifying relationship between corporate brands and personal identity, as if to say "You want me to love your brand? Okay, let me show you how much I love it."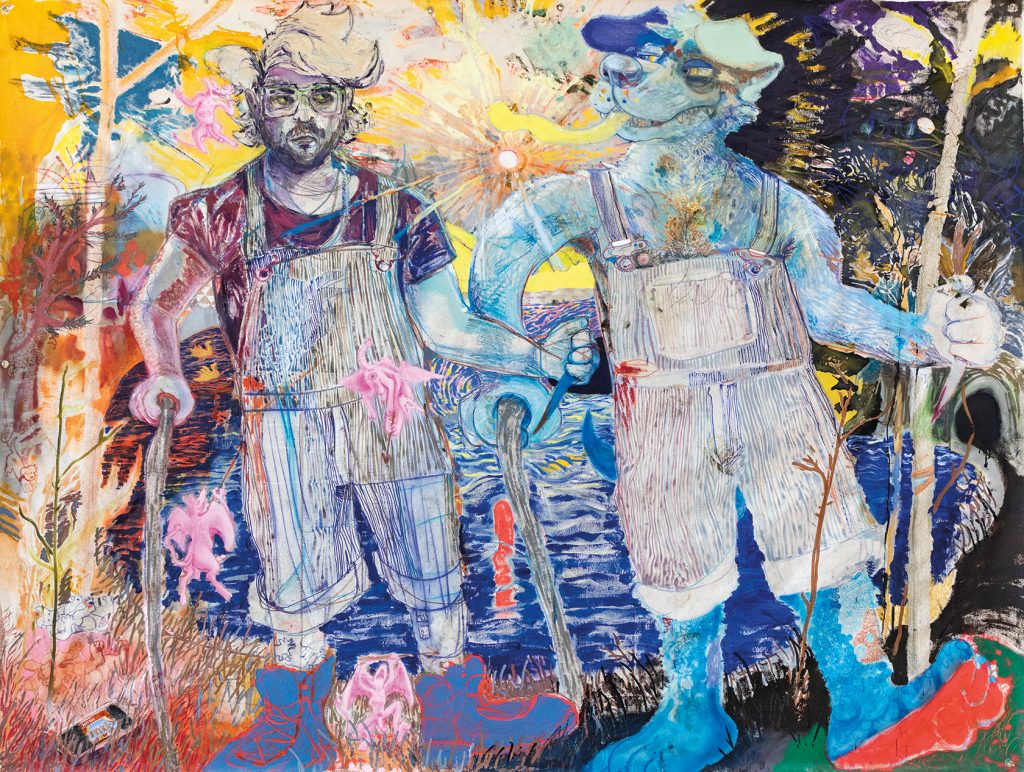 Zubrovich's work is a dive into new modes of self portraiture, spurred on by the artist's body trauma after having their sense of smell damaged by COVID. Zubrovich's new works explore the genesis and growth of Bruce the mutt, the artist's shapeshifting hyper sensory dog fursona. When Mark cannot be human, Bruce lets him be doggie (or dog dressed as possum, or sentient pool toy, ect). Where Mark cannot sniff, Bruce does the sniffing for them.

Artists Bios:
Tommy Bruce (he/him) is an artist and photographer who has been making work with the Furry community for more than a decade. He received his MFA from UNM in 2020 and his BFA from MICA in 2014. He was named one of "12 New Mexico Artists to know" in 2021. He is currently based in Albuquerque, New Mexico but will be relocating to Portland, Oregon later this summer.

Mark Zubrovich (he/they) is a Brooklyn, New York based painter born on Long Island. They received their BFA from SUNY Purchase School of Art and Design in 2015, and have been making work about anthropomorphic dogs ever since. He has shown recently with Richard Heller Gallery, 1969 Gallery, and Moosey Art, and was most recently Artist In Residence at the Liquitex painting studios in New Jersey.