"R U LOOKING?"
Apolo Gomez & Max Woltman
October 4 – 25, 2019
OPENING RECEPTION: October 4, from 6 – 8 pm
Queer Draw & Dance (in conjunction with the Way OUT West Film Festival): Date to be announced
The photography of Apolo Gomez and Max Woltman explores sex, dislocation, and desire. Apps and websites may have changed the way gay men are approaching hooking up. Through documentation and portraiture, the exhibition "R U LOOKING?" Celebrates and questions these encounters.
Know your status! During the opening reception, free HIV testing will be provided by UNM Truman Health Services. UNM Truman Health Services uses the latest research and developments in medicine to enhance the lives of New Mexicans living with HIV. Their faculty and staff of health professionals are committed to pursuing the treatment goal of virus suppression and improved immune system with compassion, respect for human dignity and the right to privacy.
Congratulations to University of New Mexico MFA Candidate's Hazel Batrezchavez and Monica Kennedy on receiving Sanitary Tortilla Factory's Exceptional Visual Artist Scholar Award! The Exceptional Visual Artist Scholar (EVAS) series offers professional space for two Master of Fine Art graduate students per year as their final thesis show. The culminating exhibition launches them into their profession as an artist. With the series, we underscore exceptional artists attending regional institutions while highlighting Albuquerque's innovative contemporary art scene.
---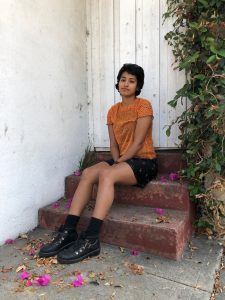 hazel batrezchavez received her Bachelor of Arts Degree in Studio Art and Anthropology from Grinnell College in 2017. Since then she has been a part of various group exhibitions and pop-up shows in the United States, specifically in California, New Mexico, Iowa, and most recently México City, and Michoacán, México. batrezchavez is a recipient of the Center of Fine Arts, Dean's Travel Grant Award, MaryAnn Evans Grant and of both the Lucile Lattanner Reid Brock and the Betty Sabo Scholarship. At the moment batrezchavez is partnering with the Santa Fe Dreamers Project as part of her StoryMaps Fellowship at the Santa Fe Arts Institute (SFAI) to create a collaborative project, that centers the voices of humans that have been forced to migrate from their homelands. As she continues to prepare for a performance at the border ports of entry in El Paso and Brownsville, Texas following her own families migration. She currently resides in Albuquerque and teaches Introduction to Art Practices and Shop Foundations while working towards her MFA in Sculpture at the University of New Mexico.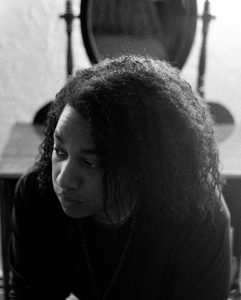 MK (Monica Kennedy) is an artist living in Albuquerque, New Mexico. In 2017, they received their BFA in Photography and Digital Media from the University of Houston andare currently attending the University of New Mexico for their MFA in Photography. They are originally from a small rural town by the name of Sulligent, Alabama, and this place has become a driving force for the mass majority of their work.
Using found items, stories, and the longing to be back with their family in this small town. They work in a variety of mediums ranging from photography, printmaking and sculpture in order to pursue and question their upbringing, identity, family, and the terms of loss and memory. They have shown at institutions such as the Blaffer Art Museum, The National Hispanic Cultural Center and SITE Santa Fe.