Guard Everything Appropriately and All Will Be Well
Nora Wendl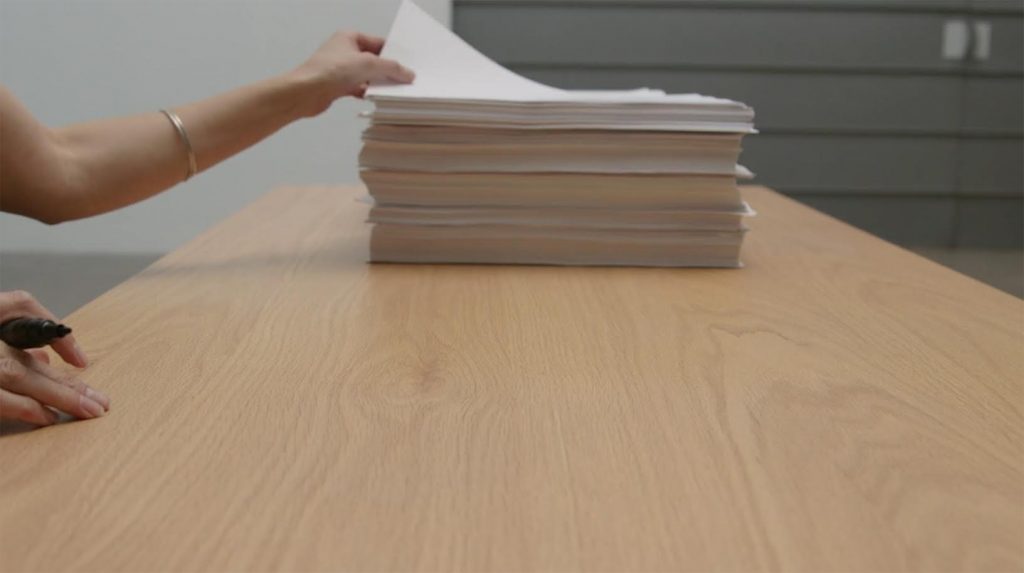 Nora Wendl, Guard Everything Appropriately and All Will Be Well
Performative legal document redaction & film screening
On view: March 11 – 15, 2019, 9 a.m. to 5 p.m.
In 2014, I was given access to the transcript of the trial van der Rohe vs. Farnsworth, in which architect Mies van der Rohe and the client that commissioned him to build a glass house in Illinois, Dr. Edith Farnsworth, sued one another. The architect alleged that she still owed him some of the cost of constructing the house, and she responded by alleging that he had misrepresented the cost of the house to her, and was practicing fraudulently—they both sought financial remuneration from the other, and much is revealed about their personal and working relationship in this document.
The transcript, a hefty 4,000 pages, is guarded by the estate of Mies van der Rohe, who are concerned with preserving the architect's legacy—indeed, his grandson describes it as a "grave concern." My negotiation of access to this document as a writer, artist and historian meant that I was bounded by the requirement that I not make the information available to others, under threat of legal action. "Guard everything appropriately, and all will be well," and "I know you'll conduct yourself professionally" were final instructions from the estate—both vague, and threatening.
From March 11 to March 15, from 9 a.m. to 5 p.m., I will clock in at the Sanitary Tortilla Factory exhibition space to redact this 4,000-page document in public. Working within the confines of typical American working hours, I will not be able to address visitors: I must continue to redact with a deadline of Friday, March 15th, 5:00 p.m. Visitors who arrive during Redaction Hours are invited to take any available seat in the gallery. This performance is meant to reveal what it means, in physical terms, to read and redact such a large document, to work at preventing it from entering into the flow of documents that make up history.
Also on view in the exhibition space during Redaction Hours and at the reception is a two-channel film made during a recent residency at Santa Fe Art Institute in which I worked with filmmaker Melinda Frame to prepare for this durational performance at Sanitary Tortilla Factory.