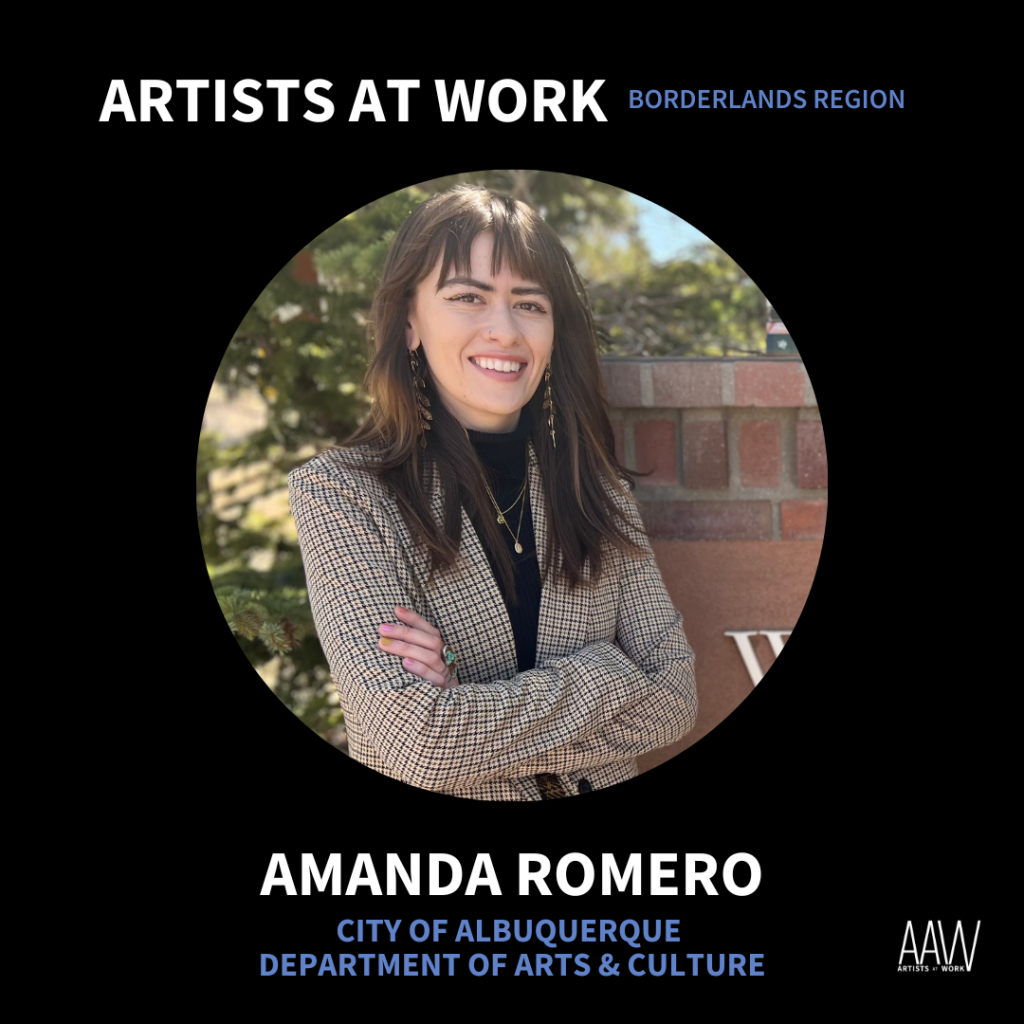 Initiative Brings Together Artists with Cultural and Community-Based Organizations to Address Deeply Rooted Economic and Social Issues
Amanda Dannáe Romero will be working with sheri crider and Sanitary Tortilla Factory as her Social Impact Initiative Partner. They will be working with system impacted youth to bring music, education, and art opportunities to incarcerated communities.
Amanda Dannáe Romero (she/they) is a queer latina experimental artist and musician based in
Albuquerque, NM. She was born and raised in Santa Fe, NM. Her work incorporates sound, coding, colcha embroidery, tinsmithing, video, photography, and performance. Her work focuses on the
interconnectivity of humans and environments, and she weaves technology and traditional art
practices together in large-scale sound and video pieces and performances. Romero received a
Master of Arts in Liberal Arts from St. John's College. She is also an educator and curator and a
founding member of fourteenfifteen gallery and the L.o.A. Collective. She plays drums and guitar in
a number of local bands, including Karen and Show Pony and plays solo as Madrina. She has
exhibited nationally and internationally and is currently working on an immersive sound art
exhibition and a collaborative project with artist Paula Castillo for SITE Santa Fe, debuting in Spring
2023.
Artists At Work (AAW) is a workforce resilience program designed to support communities through artistic civic engagement. Conceived as a public/private partnership, the program will provide a salary, plus health benefits and professional development resources directly to participating artists; provide financial support to participating local cultural organizations; and connect both to the work of local social impact initiatives in areas such as antiracism, justice reform, sustainability and equitable development, health, economy, homelessness and housing, child welfare, and immigration. It is designed to impact the whole ecosystem of a community.
Artists At Work was an idea inspired by the WPA and founded by THE OFFICE performing arts + film with an initial pilot in Western Massachusetts in 2020. Following that success, AAW was awarded $3M by the Mellon Foundation to expand AAW nationally, launching programs in Los Angeles County (2021), the Mississippi Delta Region (2022), and the Borderlands Region (2023). The implementation of Artists At Work in the Thrive Region (2022) is made possible by the support of The Lyndhurst Foundation. The implementation of Artists At Work in San Antonio (2023) is made possible by a grant from The John L. Santikos Charitable Foundation Fund of the San Antonio Area Foundation.
More information can be found at: https://www.artists-at-work.org/