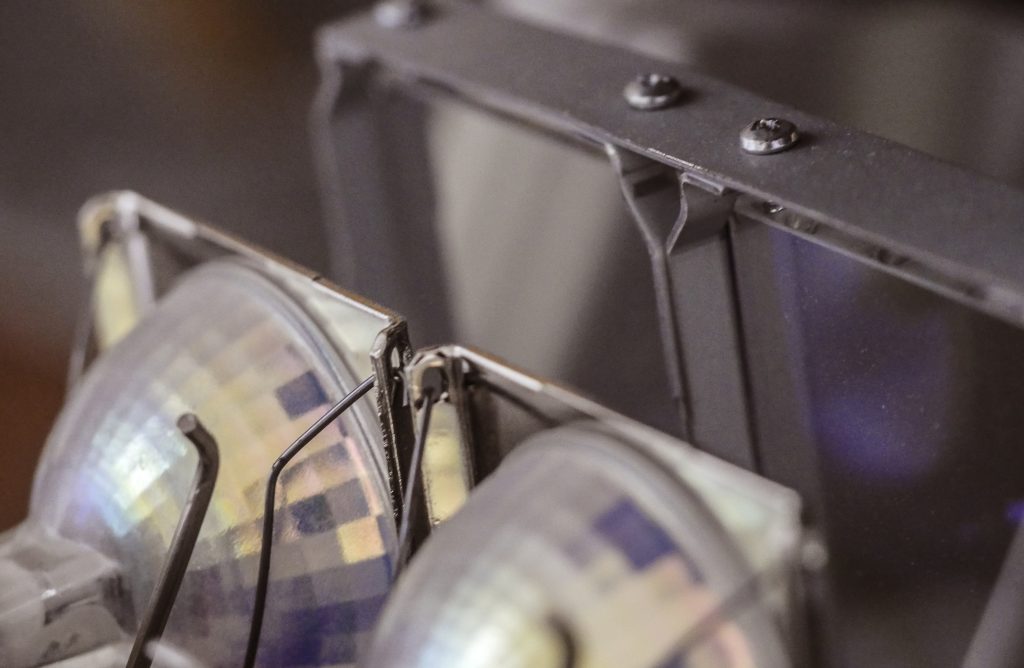 Antonym
SV Randall
December 10, 2021 – January 14, 2022
Opening Reception: Friday, December 10, from 5-7 pm 
Sanitary Tortilla Factory presents Antonym by SV Randall. Rendering a speculative system of senses as sculptural objects, Antonym examines ocularcentrism and the estranged mechanisms of perception.
The eye reaches out for objects like a lantern, crawling at first, then illuminating, then apparition, entire atmospheres reconstructed, unfurling from contorted knots, tendon to tendril, all limbs and limits reverberating, ricochet, a bell in everything, even absence. This is a site of interface and interference between organ and object.
SV Randall creates work which encompasses a range of media including sculpture, installation, painting, and performance that address the various ways in which objects mutate in nature and function across time. He explores how we situate ourselves in the world; principally highlighting larger issues of social visibility, class structures, technological obsolesce, and spatial politics. In his latest exhibition, SV explores speculative receptors of contact between the individual and the outside world.
ARTIST BIO:
SV Randall is an interdisciplinary artist from Buffalo, NY. He received his MFA in Sculpture + Extended Media from VCU and his BFA from Alfred University. His work has been exhibited at David & Schweitzer Contemporary, Brooklyn, NY; the El Paso Museum of Art, El Paso, TX; Ditch Projects, Eugene, OR; and the Museo de Arte de Ciudad Juárez in Mexico. SV is the recipient of the Toby Devin Lewis Fellowship Award and has most recently participated in residencies at the Skowhegan School of Painting and Sculpture (Skowhegan, ME), Sculpture Space (Utica, NY), the Fine Arts Work Center (Provincetown, MA), the Vermont Studio Center (Johnson, VT), and the Roswell Artist-in-Residence Program (Roswell, NM). He is currently an Assistant Professor of Visual and Performing Arts at the University of Texas at Dallas.
Nikesha Breeze, Collette Marie, Cynthia Cook, Erin Currier, Jodie Herrera, Caroline Liu, Joanna Keane Lopez, Tigre Mashaal-Lively, Anita Rodriguez, Cara Romero, Rose B. Simpson, and Maye Torres
November 5 – 30, 2021

Opening Reception: Friday, November 5th, 5-9pm
open Thursdays + Fridays 12-5pm and by appointment
Masks Required at all events
Sanitary Tortilla Factory presents, HERE, an exhibition curated by Jodie Herrera, centering around New Mexican womxn and non-binary artists of color. This exhibition was created to celebrate the great talent and impact that these important artists have contributed. They have been "Here" and will continue to show up with a remarkable and undeniable presence, not only in the visual arts community but in our creative histories of this region and beyond.