Creating Platforms for Community + Artists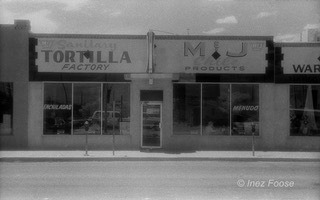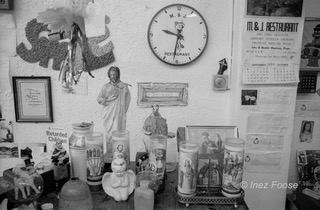 A likeness of the Virgin Mary guards the front door just inside the M & J Sanitary Restaurant, a 26-year-old Mexican cafe and tortilla factory in southwest Albuquerque. Catholic icons decorate the walls: crosses, retablos and drawing of Mary. Also displayed is a gaggle of letters from gratified customers as well as a New Yorker article, plugging the cage's authentic Mexican fare. Owners Jake and Beatrice Montoya and their efficient staff make dining a friendly and tasty affair. Famous patrons include Bill Clinton, Barbara Streisand, Erik Estrada and Crocodile Dundee (additionally Yo La Tengo LOVED this place, wrote about it often and lamented its closing). There are no leftovers at M & J's promises Beatrice and all but the chips and sopaipillas are boiled. Chunky posole, stuffed sopaipillas — a must, blue corn tacos, chile rellenos, tamales and packed burritos are the signature dishes. The moist flour and corn-laden tortillas are made fresh daily in the factory–a separate room behind the kitchen. Many customers purchase packaged fresh tortillas to go. 
(restaurant guide 1995)

Restaurant owners Beatrice and Jake Montoya created a renowned restaurant that holds sweet memories for many a burqueno. It was and is a special space. A space that historically fed and showed artists work. The restaurant closed in 2004 https://www.abqjournal.com/news/metro/184296metro06-10-04.htm In September 2015 sheri crider moved her DYI art space SCA to the historic Sanitary Tortilla Factory (STF). The vacated restaurant now houses fifteen below-market-value studios, exhibitions, shared fabrication space and biannual artist residency. The project was created out of a desire to expand the audience for contemporary art. The facility has become a professional setting where community and artists alike benefit from the visual and performing arts. STF is honored to carry on the tradition of the beloved restaurant for over 30 years, feeding and supporting the community through programming, exhibitions of local artists. In the summer of 19′ we celebrated artists that had shown work in the restaurant decades ago. Love, Art & Tortillas filled our hearts and our stomachs!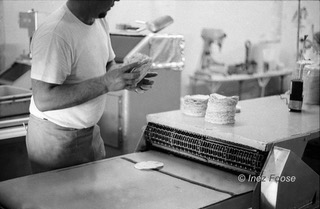 Originally intended to support regional artists by providing exhibition space at no charge, a naive impetus has grown to a complicated understanding of cultural systems. To expand the critical capacity of art making, sheri strategizes to create curatorial practices and programming that undermine structural inequity. STF facilitates unlikely collaborations with regional institutions such as the College of Fine Arts at UNM, 516 ARTS. STF strives to forge relationships with national and grassroots organizations like the ACLU, Young Women United, Crossroads for Women, USDAC Alternate Roots, Imagining America. The project has been solely supported through sweat equity and the occasional small artist grant.
BW photos courtesy Inez Foose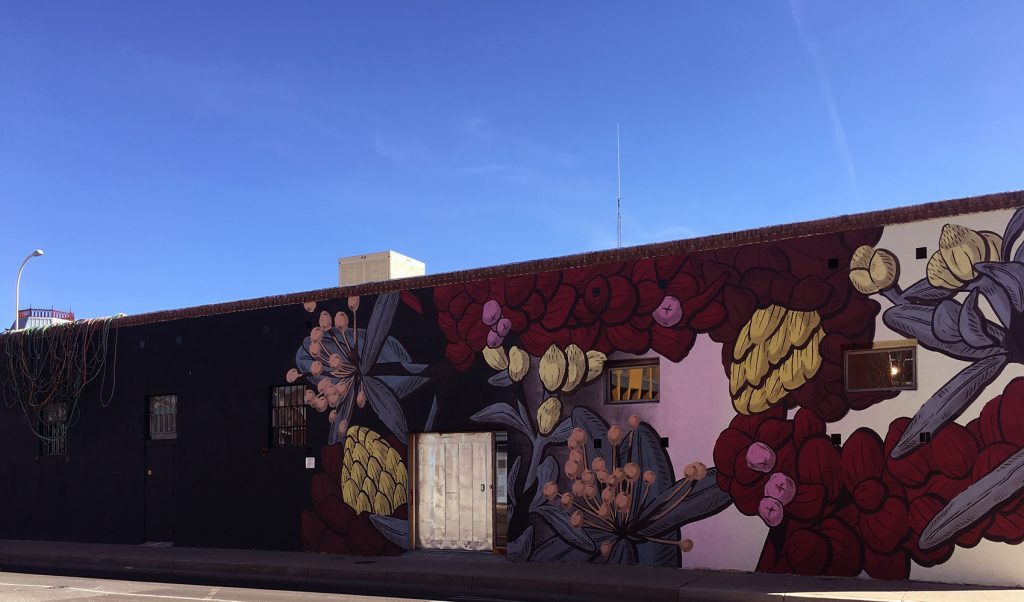 Botanical mural by Pastel 2017
Sanitary Tortilla Factory
401 – 403 2nd St SW
Albuquerque, NM 87102
Contact
sheri crider
(505) 228-3749
stfsubmissions@gmail.com
Gallery Hours
Thursdays and Fridays, 12-5pm
+ by appointment or events
Social