12'h x 50'w. a bright, colorful and bold graphic style of a 1950's postcard.
JUNE – SEPTEMBER 2020
the Sanitary Tortilla Factory will be hosting an artist led project in creating a large public art piece to be included in the International Albuquerque Sunport's public art collection.  The collaborative artist team will re-envision the graphic content of each letter of ALBUQUERQUE. Using the rich history of Albuquerque (1300-present) artists will create sophisticated graphic symbols of the region's complex histories.  Popular cultural icons will share space with the buried histories that uniquely honor the history and cultural diversity of what we call Albuquerque.
WORKSHOPS + ARTIST MENTORSHIPS –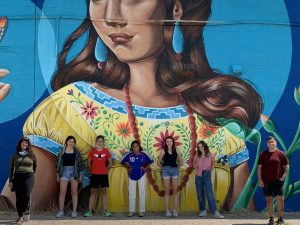 Visiting artists, NANI CHACON (ABQ ), GRACE ROSARIO PERKINS)(ABQ), ANDREA DELEON(ABQ), sheri crider (ABQ/Sanitary Tortilla Founder) will share their practice and work with students in developing finished work for the public art component at the Albuquerque Sunport. The group will use working studio discussions, field trips to museums, visits to critical sites as a backdrop to create the core images that represent the complex history of this region. 
COMMUNITY ENGAGEMENT- July 3 – August 2nd – A group of core images created by the group will be exhibited in a physical and DIGITAL CROWDSOURCE EVENT Look for a release date of July 10th. The artists of the project will engage the community in the history and images of Albuquerque in creating the final content. 
SECOND SESSION APPLICATIONS – DUE JULY 27TH BY MIDNIGHT
Youth artists are 18-24 years old, live in or near Albuquerque, and are asked to submit a brief application.
3 images and/or links to video/audio (5 min. max) or IG LINKS
BIO- Your back story, why is art/history/making images/being part of this collective important? 200 words max
SKILLS- Physical/emotional/spiritual, what are bringing to the table that you feel is some of your SUPER POWERS?? do you have software/mad social media skills?? 200 words max
TWO REFERENCES- email OR phone contact info
(if you have questions email here or text inquiry to sheri @ 505 228-3749)
submit to: stfsubmissions@gmail.com