The Sanitary Tortilla will be hosting an artist in residence for a six-week project during the summer of 2022.
The artist will be provided housing, studio space, access to the fabrication shop, travel funds ($500), and a stipend ($1800) for the residency. The studio space is STF's 1100sf exhibition space. STF's fabrication workspace contains a basic woodworking shop (table saw, band saw, miter saw, sanders), hand-held power tools, and a light metal shop including a TIG welder, chop saw, and grinders (this is a studio-wide used space). FUSE a maker space is less than a half-mile. FUSE has most any tool needed- screen printing, large format printers, full metal/wood shops, 3D printers (basic knowledge is assessed via a nominal fee class).
Onsite Apartment: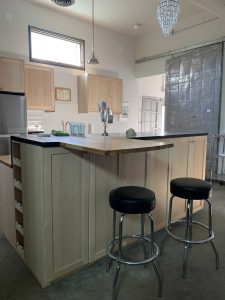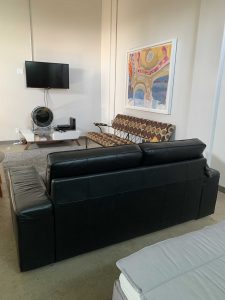 Apply: http://sanitarytortillafactory.org/submissions/
2017 Projects selected by Lucy Lippard & William Gilbert: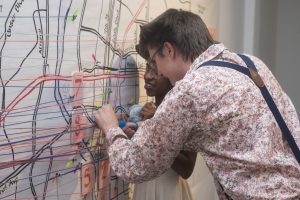 Christine Wong Yap (NY) May 31 – July 7, 2017
Belonging – was a community-engagement, participatory project created and led by Christine Wong Yap. The artist held storytelling workshops with immigrant groups to elicit personal stories of place, home, and belonging. Christine and participants created site-related place markers using excerpts of narratives and creative response activities created in workshops. The project will result in a self-published 'zine that records a map of the project. This project was expanded in the Bay area in 2018.
http://christinewongyap.com/work/2017/belonging/index.html
Alexandra Branch (NY) August 19 – September 29, 2017
Alex Branch creates architectural musical sculptures from salvaged materials that dually function as gathering spaces for the communities in which they are built. The spaces she creates often serve as conduits for artists, writers and musicians to experiment with new work and foster collaboration.  During her residency at the Sanitary Tortilla Factory she will build an acoustic boat which will have musical capabilities built into the body of the vessel.  Throughout her 6 week residency, Alex hosted events and workshops related to music, boat making, and the issues of water facing New Mexico.